TITAN Stainless Steel 40 Engine Powered Orchard Sprayer
This unit is powered with a fuel efficient, John Deere Power Tech 4045H 140hp Turbo Diesel, for long powerful performance year after year.
Titan Engine Powered Specifications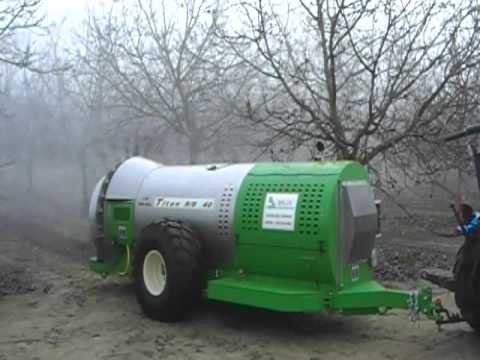 500 gallon all stainless steel tank construction with mechanical agitation. 2″ fill connection and tank basket strainer.
Heavy duty rectangular tubing construction with standard adjustable axle.
TSC4.1 154HP Deutz water cooled engine TEIR 4i and EPA/CARB approved.
Myers 2C95 centrifugal 100gpm pup
Twin disc PTO clutch with neutral position
All stainless steel construction fan housing with 40″ diaphragm steel 8 blade fan.
Dual electric shut off valves for independent spray manifold control
Dual 30 gallon fuel tanks
Stainless steel fitting are used where possible from tank to discharge manifolds
One all stainless steel suction filter and two heavy duty spraying systems discharge filters with a variety of stainless screen choices.
Options:
Cable type spray shut off valves
Fan intake debris shield
600 or 1000 gallon tank capacity